Hits: 31
WPCNR ALBANY ROUNDS. From Assemblyman Thomas Abinanti. March 23, 2016:
Assemblyman Abinanti, Chair of the Assembly Committee on Libraries & Education Technology, was appointed as one of the Assembly's representatives to the Education General Budget Conference Committee where the Assembly and Senate negotiate their differences in education.
Click the image below to view Assemblyman Abinanti's comments at the 11:15 mark: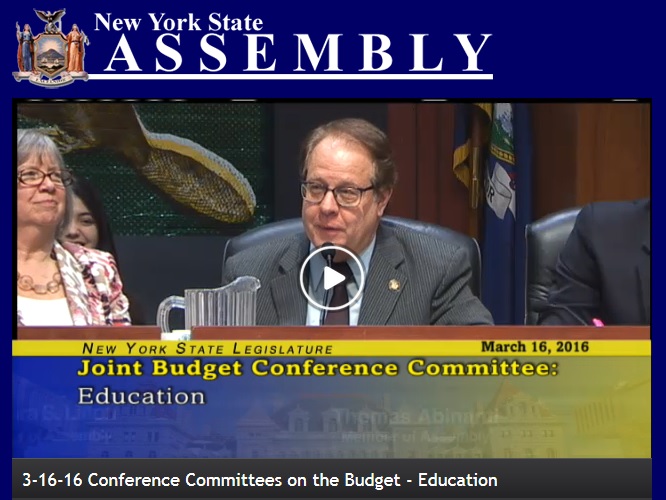 Here are some of the Assembly's changes:
Education
The Assembly provides an increase of $2.13 billion in education aid over last year's funding levels, an increase of $1.2 billion over the Governor's proposal. The Assembly budget:
increases Foundation Aid by $1.1 billion, an increase of $875 million over the Governor's proposal;
fully restores the GEA of $434 million, an additional $244 million over the Governor's proposal;
rejects the Governor's proposal linking school aid increases to school districts' annual teacher and principal evaluation plans;
proposes $200 million on a school year basis in Community Schools Aid for struggling schools, an increase of $100 million over the Governor's proposal;
includes $14.3 million to fully restore funding for Teacher Resources and Computer Training Centers;
increases funding 2% for Special Acts, 853 and 4201 Schools for the Blind and Deaf,  $2 million over the Governor's proposal; and
rejects the Governor's proposed $27.4 million in direct funding to charter schools.
Higher Education
The Assembly invests an additional $1.7 billion in higher education, providing for a two-year tuition freeze for CUNY and SUNY students in addition to a 20% increase for opportunity programs. The Assembly proposal also increases the base operating aid for community colleges by $100 per full-time equivalent and raises the maximum TAP award by $100 to $5,265 per student.
Libraries
The Assembly provides $96.6 million in aid to public libraries – a 5.5% increase of $5 million over the Governor's proposal and $24 million in the Public Library Construction Aid Program – a 70% increase of $10 million over the Governor's proposal.
People with Special Needs
The Assembly rejects the Governor's proposed changes to early intervention which would have impeded access to services. The Assembly proposal commits $200 million to cover the costs of a minimum wage increase for direct care workers who provide services to people with special needs. In addition, the Assembly proposal invests $100 million over five years for additional housing opportunities for people with special needs.
Ethics
While passing the budget, the Assembly also passed an ethics reform proposal to increase transparency in government and to limit the influence of special interests. The Assembly bill:
bars legislators from receiving outside income unless it is directly related to work actually performed – proportional to the services rendered;
prohibits elected officials working as lawyers from receiving referral fees for simply recommending a lawyer;
limits outside income for legislators to 40% of the annual salary of state Supreme Court justices;
closes the "LLC Loophole" – subjecting LLCs to the same $5,000 aggregate campaign  contribution limit that currently exists for corporations; and
increases public disclosure for groups that lobby in New York.