Hits: 29
Dear friend,
The ugly political discourse of the campaign did not end on Election Day. In many ways it has gotten worse, demonizing our differences and trying to make us afraid of anyone different. The divisiveness must stop and New Yorkers will not be bystanders to injustice. That is not the New York way.
This morning, I spoke at Abyssinian Baptist Church to remind New Yorkers that it is more important today than ever that we continue to stand up for tolerance and justice. We must stand against sexism and racism and bigotry wherever we see it. We must stand up for the rights of immigrants because we know our diversity is a strength, not a weakness.
I am a son of immigrants. Son of Mario Cuomo, who is the son of Andrea Cuomo, a poor, Italian immigrant who came to this country without a job, without money, or resources and he was here only for the promise of America.
So if there is a move to deport immigrants then I say start with me.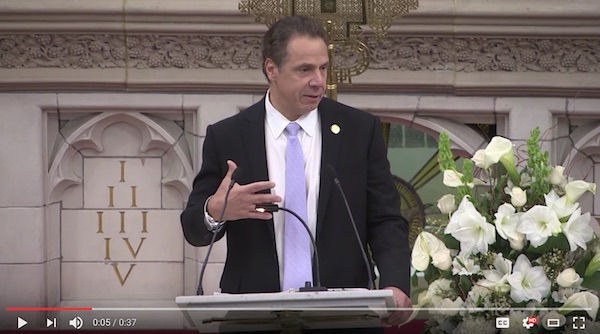 New York State is the progressive capital of the nation, and its social conscience. New York is the laboratory of the American experiment in democracy. New York is the welcome mat to the world. Ellis Island is where generations signed the American compact.
The Statue of Liberty stands in our harbor and New Yorkers hold the torch. Today, that torch must be held higher and that torch must shine brighter than ever before.
Andrew​​​
PS: Watch today's full speech here and read about the actions we are taking to protect civil rights and combat hate crimes.