Hits: 22
WPCNR VIEW FROM THE UPPER DECK IN FORT WAYNE, INDIANA. From White Plains' Mike Couzens' Column IT'S ALL RELATIVE April 15, 2014:
White Plains High's graduate Mike Couzens whose mug heads the It's All Relative Column reprinted here, is Promotion Director and the Voice of the Fort Wayne Tincaps in Fort Wayne, Indiana. John Nolan guested this column telling of the wonder of a late snow that many players had never seen before.
| | |
| --- | --- |
| | |
| | |
| --- | --- |
| | |
Monday night at Parkview Field was one of those games you had to see to believe. Early in the morning on Monday, the temperature in Fort Wayne was as high as 70 degrees. Now that shouldn't be all that surprising given that it's mid-April, but considering the winter here and the start to spring, it felt even more magnificent than usual.
And then this happened.
That's a look at Parkview Field last night around 10:30. The TinCaps and Burlington Bees started on schedule at 7:05 without any precipitation — just cold. The temperature at first pitch was 41. But it only continued to dip as the game went on. A misty rain turned into a freezing rain and eventually the field was covered in snow. During the top of the 7th, with Burlington up, 4-2, the game was finally put into a "snow delay" and then called after the mandatory 30-minute waiting period.
Personally, I'd never witnessed a snow delay or snow-shortened game before. Neither had every player I talked to afterward. The ensuing scene was wild.
There's TinCaps outfiedler Ronnie Richardson holding a snowball and having Bees pitcher Garrett Nuss take his picture. Both are from Florida and played together at UCF. The climate's a bit different in Orlando. (By the way, in the 6th when the snow was starting to pick up, Ronnie drew a walk. Gotta admire that discipline.)
How about this below: Once the game was put into a snow delay and Fort Wayne's staff was bringing the tarp out, Burlington's team didn't sprint to the clubhouse to get out of the cold. Nope. They took a team photo together on the field!
The only times I've ever seen a team pose for a postgame picture have been after championships or major milestones. Snow? I guess why not. It was certainly unique.
On the other side, the reaction of TinCaps players was different than usual, too. Not to say the team wasn't disappointed to lose, but given the circumstances, most guys weren't necessarily sulking as much as they were trying to embrace the moment. Fort Wayne's roster is primarily comprised of players from the Dominican, Mexico, Arizona, California, Florida, and Texas. Some had literally never seen snow before, let alone played in it.
So here's what the yard looked like when we arrived this morning (Tuesday) around 9:00. And below is what it looks like right now as we get set for a 7:05 first pitch.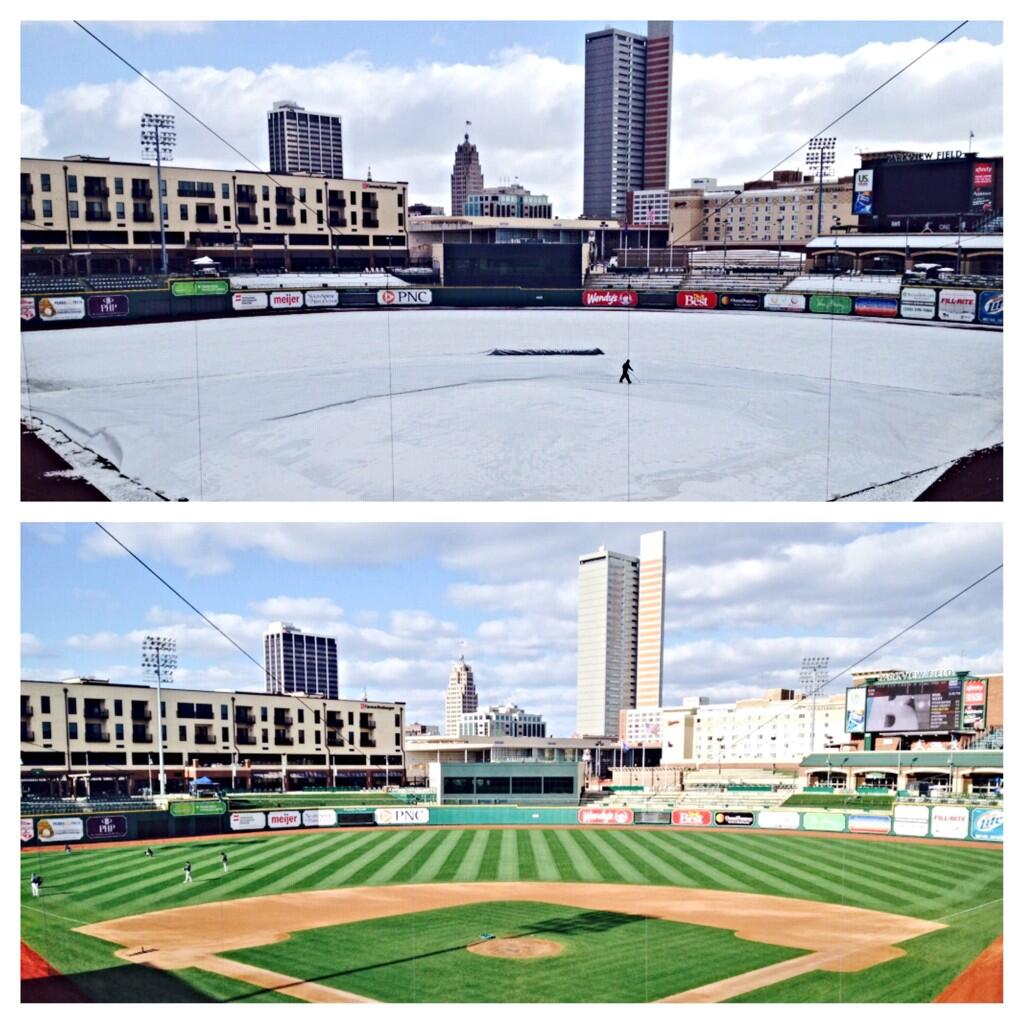 Even Olympic gymnast McKayla Maroney is impressed. TinCaps Head Groundskeeper Keith Winter, Assistant Groundskeeper Andrew Burnette, Scott Rhodes, Jake, and crew are as good as it gets in Minor League Baseball.
So now the snow is gone, though unfortunately the cold is not. It's 33 right now and feeling like 23 with the wind… But we will play ball!
Hope you can join me with Mike Couzens on XFINITY Channel 81 in the local viewing area or Mike Maahs over on The Fan 1380.
Have you ever seen a baseball game played in the snow? Let us know in the comments below or on Twitter @John_G_Nolan.
As an update–they played ball on Tuesday night…The Tincaps report it was the coldest in the ballpark's history. Our temperature at first pitch was 33, and by the end of the night, the temperature was in the 20s with a windchill of 19. Yes, it was April 15. The Tincaps won, 13-3.